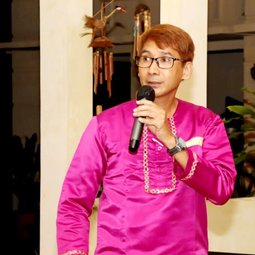 Our life was inspired by the truth experiments to find out FAITH & MERCY of Jesus Life on earth for 7 semesters (~ 3.3 years) during his last life before his returning to his Father heavenly kingdom.
Elim Laboratory:

Desinged to be

as PERFECT as GOD
URL (Talks collection):
Brief CV
Your understanding shows your bright future:

CAMPUS AS A PLACE FOR MAKING INTERNATIONAL FRIENDSHIP
Lecturing by using handphone (watch my explanations)
Hi everybody, here is HENDRY iZAAC ELIM (Elim Heaven).
I am a simple leading physicist from a small island of Ambon
located in ~1344 small islands province of Maluku in
Eastern part of Indonesia.
Fisika itu apa sih ? (My Video explanations)
Elim mobile lab Watch his explanation
My job is to educate my simple students to be
a perfect leader one day in their hard work fight.
Hopefully you guys get inspired in
this pure sharing of
our way, truth and life. Prof. ELIM (URL)
May God bless you all.
Hendry (the king of kings)
Izaac (The only official son of prophet Abraham)
ELIM (Exod.15:27; 16:1)